🎉 Introducing GenerativeMonkey.com: Unleash Your Creativity with AI! 🐵🎨
Are you ready to explore the endless realms of creativity? Look no further! 🚀 GenerativeMonkey.com is here to revolutionize the way you create, inspire, and innovate. 🌟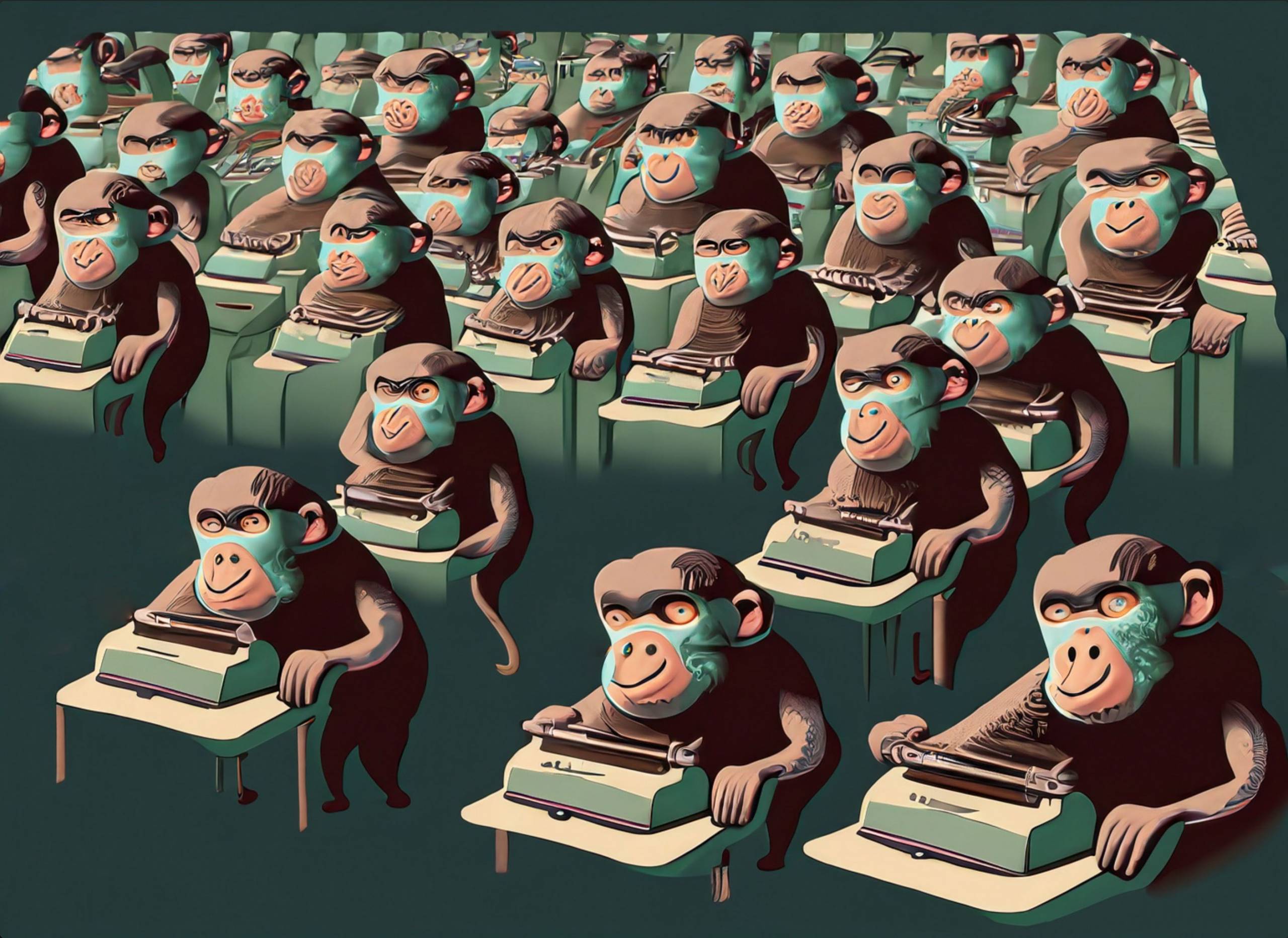 Give 1,000 monkeys 1,000 typewriters and one of them will write a Shakespeare play
🖌️ Discover Limitless Creativity: Whether you're an artist, writer, musician, or just someone with a passion for creativity, GenerativeMonkey.com offers you a playground of possibilities. Unleash the power of AI to generate stunning artwork, craft captivating stories, compose unique music, and much more.
🎨 Artistry Redefined: Watch your ideas come to life as our AI-powered tools assist you in producing mesmerizing visual art. Transform your concepts into vivid paintings, intricate patterns, and awe-inspiring designs that push the boundaries of imagination.
✍️ Write Beyond Boundaries: Banish writer's block forever! Experience the magic of AI-generated writing prompts, stories, poetry, and more. Dive into a world where words flow effortlessly and your ideas take on a life of their own.
🎵 Harmonize with AI: Collaborate with AI to compose harmonious melodies that resonate with your emotions. Whether you're a seasoned musician or just starting, GenerativeMonkey.com provides you with the ultimate jamming partner to create music that tugs at the heartstrings.
🤖 User-Friendly Interface: Don't worry if you're new to AI—our user-friendly interface makes it easy for anyone to harness its potential. Navigate through our tools with ease and bring your artistic visions to reality without any hassle.
⚙️ Customization at Your Fingertips: Tailor AI outputs to suit your style. Tweak parameters, styles, and genres until you achieve the perfect masterpiece that aligns with your unique vision.
🌐 Join the Creative Community: GenerativeMonkey.com isn't just a platform; it's a thriving community of creators. Connect, share, and collaborate with fellow artists, writers, and musicians from around the globe. Expand your horizons and draw inspiration from a diverse pool of talents.
🔒 Your Creativity, Your Control: We believe that AI is a tool to amplify your creativity, not replace it. You remain in full control, using AI as your muse to elevate your artistic endeavors.
🎁 Claim Your Free Trial: Ready to embark on this artistic adventure? Sign up now to enjoy an exclusive free trial and witness the potential of AI-assisted creativity firsthand.
🚀 Don't miss your chance to be at the forefront of a creative revolution! Visit GenerativeMonkey.com today and let AI unleash the artist within you. 🐵🎨 Your imagination knows no bounds!